CapitalMarkets
Serving the finance market with news, analysis and investment opportunities.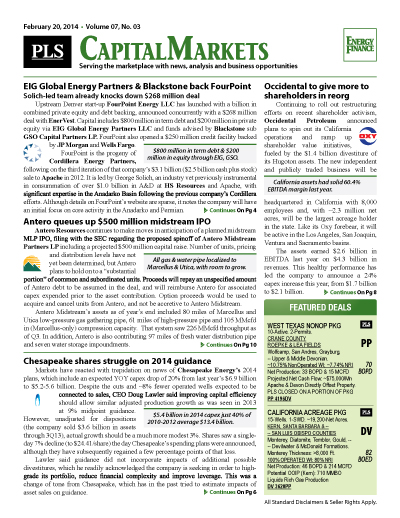 PLS publishes news and analysis in the energy finance sector through its capital markets module. The green banner report includes news and analysis on company budgets, capital spending, financial performance and interviews with leading capital providers.
Your access to energy finance
Single copy pricing; Incl hard copy & email version
Increase market insight & deal flow
Every 3 weeks; 17+ issues per year
Covers financings, capex, earnings, new companies
Includes market analysis and new trends
Access to capital market archives
Phone request for multiple listings published in reports
Includes discounts for other PLS products & events
Are you looking to subscribe to Capitalize? Click here for the latest Capital Markets Report
Search PLS' News Archive for complete oil & gas news for CapitalMarkets .
See what it is about before you buy. View a sample issue of CapitalMarkets.
Need more information? Click the button to recieve more details about the CapitalMarkets
Opportunity is a reflection of information.
Call 713-650-1212 For More Information
Search CapitalMarkets:

Headline
Publication
News Date
CM - Chisholm seeking to cut $517MM in debt via Chapter 11 - June 2020
Chisholm Oil & Gas filed for Chapter 11 bankruptcy protection, seeking to extinguish $517 million of long-term debt. It entered the courthouse on June 18 with a restructuring support agreement with its PE sponsors Ares Management and Apollo Global Management and lenders including Citi and Goldman Sachs. The Tulsa-based shale E&P company has $263 million outstanding on its reserve-based lending facility and $254 million outstanding on a term loan. The restructuring support agreement...
Jun 26, 2020
CM - Moody's downgrades midstream for first time on expected EBITDA - June 2020
Moody's Investor Services downgraded the midstream sector for the first time ever— to negative from stable—as the ratings agency forecasted a more than 5% sector-wide drop in EBITDA this year. Moody's said that E&P companies' shut-ins, demand and supply shocks, and erosion of customer credit quality have all contributed to conditions to bring 2020 aggregate EBITDA for midstream companies below its threshold for a stable industry. VP and senior credit officer Andrew Brooks said that the...
Jun 26, 2020
CM - Mirage Energy borrows $4B to build Mexican gas & crude projects June 2020
Mirage Energy Corp. and Northern Hemisphere Logistics Inc. signed a $4 billion debt facility with the family office of Bluebell International LLC to develop natural gas pipelines, underground natural gas storage and the Isthmus Corridor project in Mexico. Under terms of the loan, Bluebell, an Irvine, California-based provider of construction loans, will receive 75% of the projects' equity. Mirage will use the funds to develop the Burgos hub storage and natural gas pipeline consisting of...
Jun 26, 2020
CM - Oneok has largest midstream equity offering in 2.5 years - June 2020
Oneok Inc. sold 29.9 million shares at $32 each for gross proceeds of $956.8 million in a public offering launched June 11. The 3.9 million-share greenshoe was exercised in full, delivering $124.8 million of the total gross proceeds. The offering is the midstream sector's largest public common equity sale since January 2018 when—coincidentally— Oneok sold 19 million shares for $55.02 each to raise over $1.02 billion. Oneok's offering is the second public midstream common equity sale this year,...
Jun 26, 2020
CM - Phillips 66's $1B bond sale includes 2025 add-on and new 2030s - June 2020
Phillips 66 launched debt offerings totaling $1 billion on June 9. The offerings comprised two tranches: $850 million aggregate principal amount of 2.15% senior notes due 2030 and a $150 million add-on tranche to its existing 3.85% senior notes due 2025, of which the company initially sold $500 million on April 9. The company said both 2025 offerings will be treated as a single series upon settlement. The new 2025 tranche was sold at a premium of 111.947, reflecting the existing 2025...
Jun 26, 2020
CM - DCP closes $500MM debt sale to pay down revolver borrowings - June 2020
DCP Midstream LP announced the closing of the sale of $500 million aggregate principal amount of 5.625% senior notes due 2027 at 100 on June 24. The offering was upsized from an earlier contemplated $400 million principal amount. Net proceeds of about $494 million will be used for general partnership purposes, which include the repayment of revolver debt and possibly the funding of capital expenditures. The new notes bring DCP's total long-term debt outstanding to over $5.93 billion,...
Jun 26, 2020
CM - Plains sells $750MM of 10-year notes to repay upcoming 2021s - June 2020
Plains All American Pipeline LP completed a public offering of $750 million aggregate principal amount of 3.8% senior unsecured notes due 2030 on June 11. The notes were priced at 99.79 for a yield to maturity of 3.825%. Plains said it will use net proceeds from the offering, estimated at $748 million, to repay the $600 million principal amount outstanding of 5% senior notes that come due next February, either on or before their maturity date. Other uses for the proceeds will be for general...
Jun 26, 2020
CM - Southwest Gas sells 10-year notes to redeem 2020 maturity - June 2020
Southwest Gas Corp. completed a public offering of $450 million aggregate principal amount of 2.2% senior notes due 2030 on June 4. The notes were sold at 99.874 for a yield to maturity of 2.214%. Adjusted for the new notes, Southwest Gas has total long-term debt of about $2.29 billion, excluding current maturities of $605 million Net proceeds of around $446 million will be used redeem the $125 million outstanding of the company's 4.45% senior notes due 2020, and to reduce credit facility debt....
Jun 26, 2020
CM - Superior & Forbes call off all-stock combination deal - June 2020
Market conditions have killed the halfyear attempt to combine Superior Energy Services and Forbes Energy Services in an all-stock transaction that would have ultimately given Superior shareholders a 52% stake in the new company. The decision to end the process has a slight wrinkle for a Superior debt exchange that occurred in February. Superior agreed to swap $635 million in 7.125% notes due 2021 for a like amount of 8.75% senior notes due 2026, issued on the condition that the...
Jun 26, 2020
CM - News Briefs - June 26, 2020
Bonanza Creek Energy Inc. and lenders led by JP Morgan reduced the company's borrowing base to $260 million from $375 million and the elected loan limit to $260 million from $350 million. The company will also have a weekly mandatory prepayment requirement if its consolidated cash balance is over $35 million. Also, the maximum permitted net leverage ratio was reduced to 3.5x from 4.0x, and to 2.75x from 3.25x in cases of restricted payments, investments or redemptions. Cimarex Energy...
Jun 26, 2020
Get more news for CapitalMarkets