Ark-La-Tex Scout
Serving the local market with drilling activities, permits & multiple listings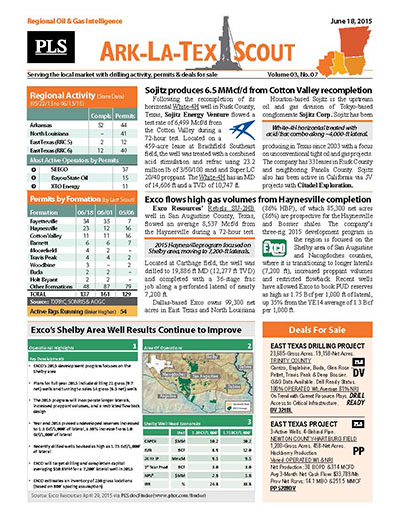 PLS publishes exploration news and drilling insights in Arkansas, Louisiana and East Texas through our Ark-La-Tex Scout. A famed area with significant of oil and gas history- this Region- known for East Texas stacked pays (Smackover, Bossier Sand, Cotton Valley, Travis Peak, Woodbine, Glen Rose, Rodessa, Pettit, James Lime, Edwards, Georgetown); Arkansas's shales (Brown Dense & Fayetteville) and North Louisiana's gas (Hosston & Haynesville) is still a core area for many operators from Dallas to Shreveport.
Stay in front of local prospects, plays & rigs!
Arkansas, Louisiana, East Texas
Hard Copy and Email For 1 Individual
Every 3 to 4 Weeks (12-16 issues per year)
Regional discoveries, drilling activity, permits,
completions and summary drilling statistics, layered
with regional listings and business opportunities
Web access to the Ark-La-Tex Scout archive
Does not include access to MLS
Search PLS' News Archive for complete oil & gas news for Ark-La-Tex Scout .
See what it is about before you buy. View a sample issue of Ark-La-Tex Scout.
Need more information? Click the button to recieve more details about the Ark-La-Tex Scout
Opportunity is a reflection of information.
Call 713-650-1212 For More Information
Search Ark-La-Tex Scout:

Headline
Publication
News Date
ALT - Blue Dome Operating Highlights - June 25, 2020
Caddo Parish. Louisiana-focused operator, Blue Dome Operating completed the Hudson Etal 4-33 HC #1-ALT targeting the Haynesville at Greenwood-Waskom field. The well produced an initial 24-hour rate of 21.4 MMcf/d from a 10,096-ft effective lateral on a 28/64-inch choke at 6,209 psi FCP. This is the company's first completion of 2020 and secondhighest IP24 to date, out of eight reported to the...
Jun 26, 2020
ALT - GeoSouthern gets in on the Jurassic to excellent effect - June 25, 2020
In the last few years, Vine Oil & Gas has operated a small-scale D&C program in the Jurassic formation that has delivered quality and consistency. Ten wells over the last three years generated initial 24-hour rates averaging 16.5 MMcf/d, from effective laterals averaging 7,000 ft. Cumulative rates per well averaged 3.1 Bcf in the first six months and, for the six wells with sufficient production history, 5.0 Bcf in the first year. Yet, despite such quality results, Vine was the only...
Jun 25, 2020
ALT - What's Comstock doing in Webster Parish? - June 25, 2020
When one thinks about horizontal Haynesville exploitation, Webster Parish, Louisiana, isn't a location that comes to mind. This is for good reason. Only six such wells have been drilled there ever. However, one of those was completed by top-tier Haynesville operator Comstock Resources in April. Located at Lake Bistineau field, the Lindsay 36-25 HZ #1 was completed with an 8,965-ft effective lateral fracked with 34 MMlb of proppant (3,797 lb/ft). During a 24-hour test, the well produced 29.7...
Jun 25, 2020
ALT - Regional Highlights - June 25, 2020
The EIA projects that Haynesville production will fall by 72 MMcf/d sequentially in July to 11.761 Bcf/d. There were 257 DUCs in the Haynesville as of May, up by one compared to...
Jun 25, 2020
ALT - Indigo Natural Resources Highlights - June 25, 2020
During Q1, Indigo Natural Resources was the most active operator in the Louisiana Haynesville by number of completions, according to the latest state data. The company completed 10 horizontals: six in DeSoto Parish and four in Sabine Parish, Louisiana. The wells averaged 7,350- ft effective laterals fracked with 27.3 MMlb of proppant (3,708 lb/ft) and initial 24-hour rates of 20.3 MMcf/d. Indigo has filed 12 permits in the last 90 days and is running four rigs as of June 24. Two rigs are in...
Jun 25, 2020
ALT - Sabine Oil & Gas Highlights - June 25, 2020
At the end of April and beginning of May, Sabine Oil & Gas completed four horizontals targeting the Cotton Valley in Rusk County, Texas. Split between the Viper-2 Jones W and Viper-Sears Deep pads, the wells had effective laterals ranging 7,500- 8,500 ft and frac loads averaging 1,627 lb/ft. Initial 24-hour rates ranged 8.0-9.1 MMcfe/d (96% gas). The company completed two wells in the county during...
Jun 25, 2020
ALT - Chesapeake's Q1 Haynesville completions average 32.5 MMcf/d - June 4, 2020
Chesapeake Energy's Q1 completion activity in the Haynesville was comprised of four wells at Bethany Longstreet field in Caddo Parish, Louisiana. Three of the wells were completed on the Gerard 1&12-14-16HC pad at the end of March. The Gerard horizontals averaged 9,937-ft effective laterals and were fracked using 27.4 MMlb of proppant apiece (2,757 lb/ft). Initial 24-hour rates averaged 30.6 MMcf/d with the top performer, the Gerard 1&12-14-16HC #3-ALT, flowing 34.0 MMcf/d on a 1/2-inch choke...
Jun 04, 2020
ALT - Ensight's first 2020 Haynesville wells on par with prior results - June 4, 2020
Ensight IV Energy completed its first two wells of the year at Elm Grove field in Bossier Parish, Louisiana. Located on the same pad, the Snyder LM LLC 31H #1 and #2- ALT were completed with 4,608-ft effective laterals and produced initial 24- hour rates of 20.4 MMcf/d and 22.3 MMcf/d, respectively. Since the beginning of 2019, Ensight has completed six wells targeting the Haynesville, with two in Caddo Parish and the rest in Bossier Parish. The two Caddo Parish wells generated IP24s averaging...
Jun 04, 2020
ALT - Regional Highlights - June 4, 2020
The EIA projects that Haynesville production will fall by 10 MMcf/d sequentially in June to 12.008 Bcf/d. There were 245 DUCs in the Haynesville as of April, up by one compared to March. The Louisiana Mineral and Energy Board put a hold on some obligations on state oil and gas leases. Companies will not be required to deliver production to avoid fines or loss of leases. "We realize [the pandemic] puts the industry in compromising situation," said Paul Segura, the board's...
Jun 04, 2020
ALT - Rockcliff Energy Highlights - June 4, 2020
Rockcliff Energy has maintained a four-rig drilling program since the beginning of 2018. That consistency has now resulted in the private Houston company becoming the most active driller in East Texas. Other companies drilling in the area include Sabine Oil & Gas (three rigs) and Aethon Energy (two...
Jun 04, 2020
Get more news for Ark-La-Tex Scout