Southeastern Scout
Serving the local market with drilling activities, permits & multiple listings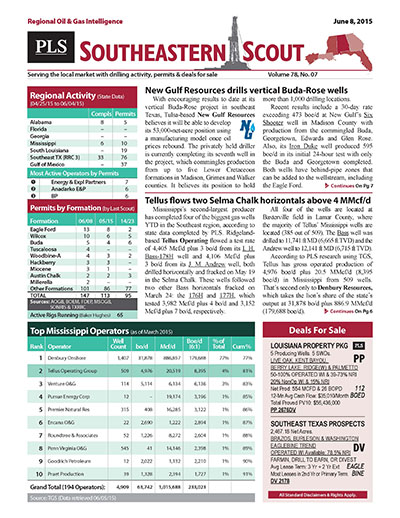 PLS publishes local exploration news and drilling insights on a regional basis through reports like the Southeastern Scout. Previously known as the Southeastern Oil Review and published since 1926, this unique report has a loyal following of explorationists, operators, drillers, landmen and landowners in South Louisiana, Mississippi, Alabama and Florida.
Stay in front of local prospects, plays & rigs!
South Louisiana, Mississippi, Alabama, Florida
Hard Copy and Email For 1 Individual
Every 3 Weeks (16-20 issues per year)
Regional discoveries, drilling activity, permits,
completions and summary drilling statistics, layered
with regional listings and business opportunities
Web access to the Southeastern Scout archive
Does not include access to MLS
Search PLS' News Archive for complete oil & gas news for Southeastern Scout .
See what it is about before you buy. View a sample issue of Southeastern Scout.
Need more information? Click the button to recieve more details about the Southeastern Scout
Opportunity is a reflection of information.
Call 713-650-1212 For More Information
Search Southeastern Scout:

Headline
Publication
News Date
SES- W&T hits 100 ft of net oil pay at East Cameron 338/349 - July 2, 2020
W&T Offshore struck oil with its only well drilled during Q1, located at East Cameron 338/349 field in the shallow-water Gulf of Mexico. The Cota well was drilled to 6,000 ft in 290 ft of water and encountered 100 ft of net oil pay. W&T anticipates the well will be brought online in 1H21. The company currently holds 20% in the well, with that stake increasing to 38.4% when the well is turned to sales and performance thresholds are met. This was the only well W&T drilled in Q1. All D&C activity...
Jul 02, 2020
SES - LLOG sanctions Taggart as tieback to Devils Tower spar - July 2, 2020
Privately held LLOG Exploration sanctioned its Taggart discovery on Mississippi Canyon block 816. The development will consist of two wells that will be tied back to the Williams-operated Devils Tower spar in nearby Mississippi Canyon block 773, with first production expected in 2022. An agreement has been signed with Williams to provide production handling. Williams will utilize its Mountaineer and Canyon Chief pipeline systems, delivering volumes to its Mobile Bay processing plant. NGLs...
Jul 02, 2020
SES - Contango Oil & Gas Highlights - July 2, 2020
In Grand Isle block 45, Contango Oil & Gas' Iron Flea exploration well was unsuccessful. The prospect, drilled in 12,500 ft of water at an estimated dry hole cost of over $7 million, had targeted 21 MMboe in reserve potential. Contango drilled the well in a joint development agreement with Juneau Oil & Gas. Contango would have acquired 85-90% in the well in the case of a...
Jul 02, 2020
SES - Chesapeake Energy Highlights - July 2, 2020
On June 28, Chesapeake Energy filed voluntary petitions for reorganization under the Chapter 11 bankruptcy code. Concurrently, the company entered into a restructuring support agreement with 100% of the lenders under its revolving credit facility, holders of about 87% of the obligations under its term loan agreement, 60% of its senior secured second-lien notes due 2025, and 27% of its senior unsecured notes, pursuant to which Chesapeake will implement a plan to eliminate about $7 billion of...
Jul 02, 2020
SES - Kosmos Energy Highlights - July 2, 2020
Kosmos Energy entered a crude oil prepayment agreement with Trafigura Trading LLC. The agreement provides up to $200 million of crude oil sales primarily related to a portion of the company's 2022 and 2023 Gulf of Mexico production, with $150 million committed by Trafigura. Kosmos expected to execute $50 million of advance crude oil sales in June. Later this year, following the completion of the prepayment agreement conditions, an additional $100-150 million of advance crude oil sales is...
Jul 02, 2020
SES - Talos Energy Highlights - July 2, 2020
Following a $640 million acquisition completed in February, Talos Energy announced a $65 million cashand-stock deal to acquire additional stakes in 16 of its new properties, including operatorship of 11. The definitive agreement was signed with an affiliate of Riverstone portfolio company Castex Energy, one of three sellers in the previous deal. The new assets from Castex Energy 2005, all located on the GOM shelf, have estimated proved reserves of 17.6 MMboe (66% PD) and production of 38.4...
Jul 02, 2020
SES - Murphy delays one well in three-well Front Runner program - June 11, 2020
Murphy Oil brought online the first well in its Front Runner program on the Green Canyon block 338 in the Gulf of Mexico during Q1. The A4 well encountered more than 250 ft of net pay and has outperformed expectations by nearly 2x with a gross peak rate of 7,000 boe/d. The company is evaluating a near-field subsea exploitation opportunity as a result. Front Runner was launched as a three-well program in November but was recently revised to two wells, with the third to be drilled at a later...
Jun 11, 2020
SES - Q2 GOM well starts, rig counts lag behind Q1 amid oil rout - June 11, 2020
The number of rigs drilling for hydrocarbons in the Gulf of Mexico has averaged 33 during Q2 thus far, showing a nine-rig, or 21%, drop compared to the Q1 average, according to Enverus Rig Analytics. If the situation holds constant through the remainder of the quarter, this would be the lowest level of GOM rig activity in Enverus' data, which goes back to 2Q14. After bottoming at a quarterly average of 34 in 4Q16 after the last oil bust, the count has stayed in a tight range around 40. This...
Jun 11, 2020
SES - Regional Highlights - June 11, 2020
Tropical Storm Cristobal formed in the Gulf of Mexico on June 1 and made landfall in Louisiana on June 7. As of June 9, 31% of crude production and 33% of natural gas production were shut in, according to the US Bureau of Safety and Environmental Enforcement. By June 10, 24% of oil volumes, or 436,000 bo/d, and 23% of natural gas volumes, or 619 MMcf/d, were still shut...
Jun 11, 2020
SES - Byron Energy Ltd. Highlights - June 11, 2020
Byron Energy Ltd. commenced loading of the South Marsh Island 58 G platform and jacket in early June. The platform will be installed over a three-week period, and oil and gas pipeline installation will begin in early July. In mid- to late July, a rig will arrive on the block to drill the G1 well. Byron operates the project with 100%...
Jun 11, 2020
Get more news for Southeastern Scout